Max 7 seats and sleep up to 6 people!
Apps Rentacar Campervan Hire is the raddest way to cruise around the West Japan.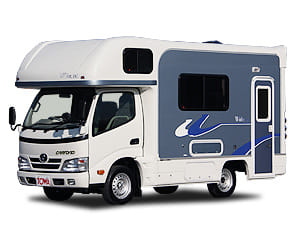 Enjoy Wakayama with the ultimate in transport and accommodation. Apps Rentacar campervan hire offers amazing camper rentals at affordable rates.
Apps Rentacar offers a range of vehicles, Caterham Seven for hire around Wakayama. Our Japanese camper van hire is the best and most affordable way to see across the Japan. Each budget camper comes with comfortable beds, mini kitchen and loads of storage space.
Quick Spec :
Length 499cm、Width 207cm、Height 284cm, Automatic transmission
 
Storage

Plenty storage space

Wardrobe

Wardrobe for your jacket and coats

Water Proof Free Room

Free room is completely water proof

Fridge

65L fridge

Up to 3 adults can sleep at living space!

1930mm×1800mm as a King size bed!

Comfortable living room

Comfortable living room

Compact kitchenette

Convenient and compact kitchenette inside

Cookers

for save your money!

Bunk bed above the drivers seat

1850mm×1700mm bunk beds, ideal for kids!
Whats Included?
Free Wifi inside
English available GPS / SatNav
Car Insurance and Road services
Tooth Brush
Kettle
Welcome coffee
Baby / Child car seats(up to 2 seats)are specially designed for camper van
BBQ equipments(up to 6 people)
Whats not included?
Sleeping bag, pillows and bedding covers
Portable toilet
ETC Cards for toll gate